It's been a busy couple of weeks. More so than I expected when launching this blog. It's Saturday. But I still wanted to link up with Lauren over at
From My Grey Desk
for this week's H54F. So here are my top 5 from this past week before the new week starts in just a few minutes.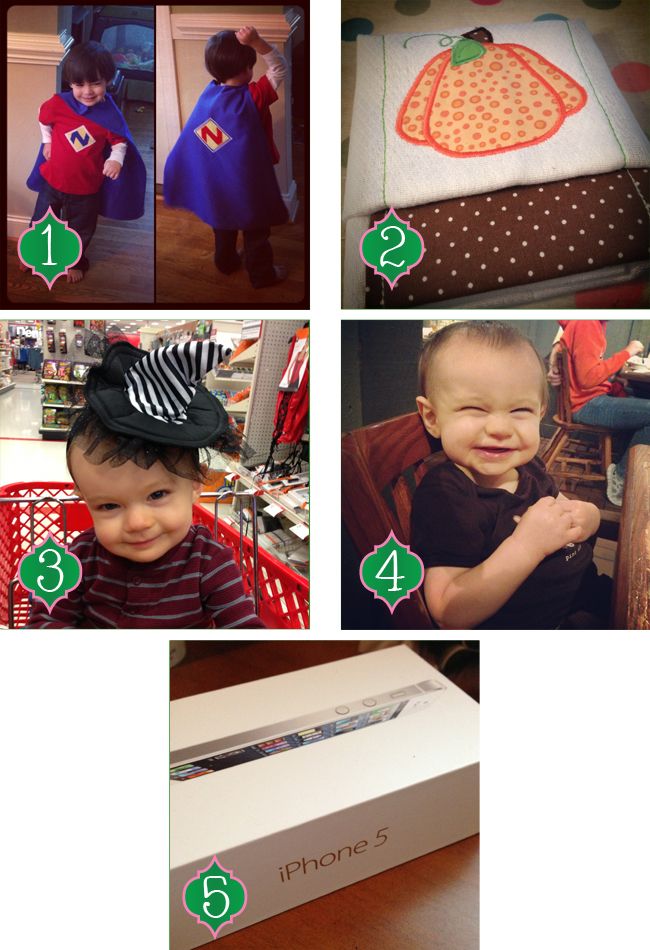 1. Made this super-N shirt and cape for big N. It was dress-like-a-princess/prince/superhero day at preschool. My boy is definitely a superhero. He loved his special costume for the day. I even got a "Thank you, Mommy! I love it!", totally unprompted. Absolutely made the late night worth it.
2. Think I finally figured out the applique process on my
Bernina
. (Same machine no longer available. See similar
here
.) Made this pumpkin burp cloth. Was hoping it could be my first listing in my etsy shop.
3. Had some fun playtime with this little guy at Target while big N was at preschool. He definitely loved trying on the funny hats. He cried when we ran out of hats for him to try.
4. Spent part of the week planning this boy's FIRST birthday! He is such a little ham.
5. Hubby treated me to a new
toy
. It's kinda nice sometimes to have a hubby who wants all of the latest gadgets.
Thanks for stopping by. Hope you check out the others who have linked up this week!